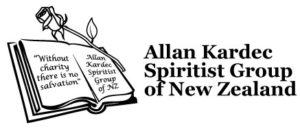 The Allan Kardec Spiritist Group of New Zealand is a charitable non-profit organization established in Auckland in New Zealand since 2005.
The aim of the Group is to promote and disseminate the Spiritist Doctrine in New Zealand
Most public meetings are held in English as a sign of respect for the country's official language.
It is also to help all English speakers to feel welcome and all Brazilians who come along to improve their English.
When this is not possible we will endeavor to provide English translation for those who need it.
Typical Study Meeting Program:
· Short reading and comments of an inspirational Spiritist message
· Opening prayer
· Reading and comments of "Gospel According to Spiritism"
· Reading and comments of "The Spirits' Book"
· Vibrations and energy irradiation
· Closing prayer
· Spiritual treatment (pass, imposing of hands)
Public Meetings: Every Wednesday from 19:00 to 21:00
Children and Youth Spiritist Studies: Sundays from 10:00 to 11:15
Venue: Jubilee Building, Titoki Room  (check the board on the main foyer)
Address: 545 Parnell Road, Auckland